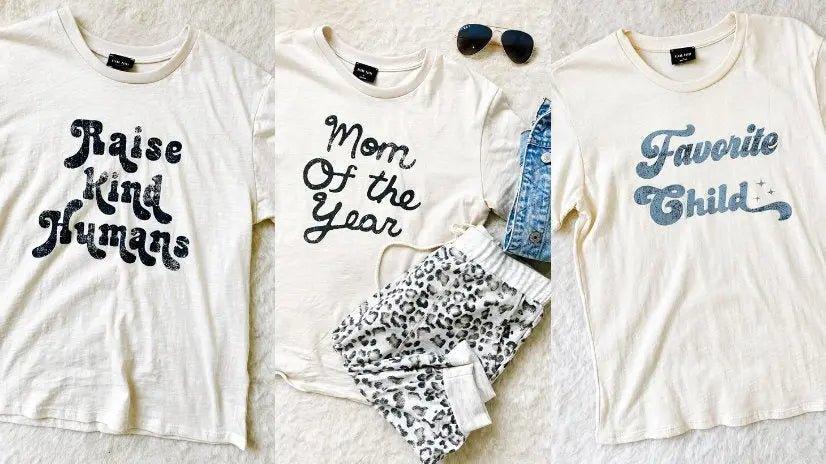 It's time to spoil all of those special mommas out there! Whether you like to give something simple like chocolate or go all out + get her a new outfit, we've got all the ideas for you! We're here to help + make shopping for that momma easy!
Below are a few gifts we think she'll love.
First on our list is our "Mom Of The Year" Graphic Tee! We love this top for a few different reasons - it's adorable, easy + effortless! She can pair this top with anything from a skirt, denim, shorts, or her favorite joggers!
Next, you can never go wrong with some jewelry! We've got quite the selection ranging from earrings to necklaces to bracelets. We've also got other accessories such as belts + headbands.
The easiest gift of all? That would be our gift card! If you're not quite sure what she would like, you can never go wrong with a gift card + let her choose what she wants! We offer in-store as well as online gift cards.
In addition to what we have available, we've also came up with some ideas from local businesses around! This is one way we can show them some love + support during this time!
DATE NIGHT / MOMS NIGHT OUT IDEAS:
- Cafe Arazu: Treat mom to a night out with friends or hubby to dinner at Cafe Arazu! They have amazing food + a great selection of cocktails.
Located in Downtown Newburgh
- The Wine Down: The Wine Down is offering gift baskets, gift cards or you can purchase bottles of wine from them! This is another great option for mom as she can spend a night out or a night in with this option!
Located off the Lloyd in Newburgh
STAY AT HOME / NIGHT IN IDEAS:
- Flutter: Get mom a cute + cozy outfit to hang around the house in! Flutter has a few different styles to choose from + they're so adorable!
- Sweet Emotion Skincare: After a long day she deserves some relaxation! Sweet Emotions has a variety of different products ranging from bath bombs to face masks!
Located in Downtown Newburgh 
- Sugar Fix: Satisfy her sweet tooth with some candy from Sugar Fix! They've put together some gift baskets for Mothers Day that have a few different things in them or you can make your own!
Located in Downtown Newburgh
LUXURY ITEMS IDEAS:
- K.Slade: Kelsea at K.Slade has a variety of different leather options to choose from! Ranging from large handbags + backpacks to little card holders! All of her leather goods are handmade + made in the USA. 
- Flutter: Spring is here + summer is coming which means SUN! So why not splurge a little and get her a nice pair of sunglasses that she'll love! Flutter has a great selection of RayBans + they're always 15% off!
Located in Downtown Newburgh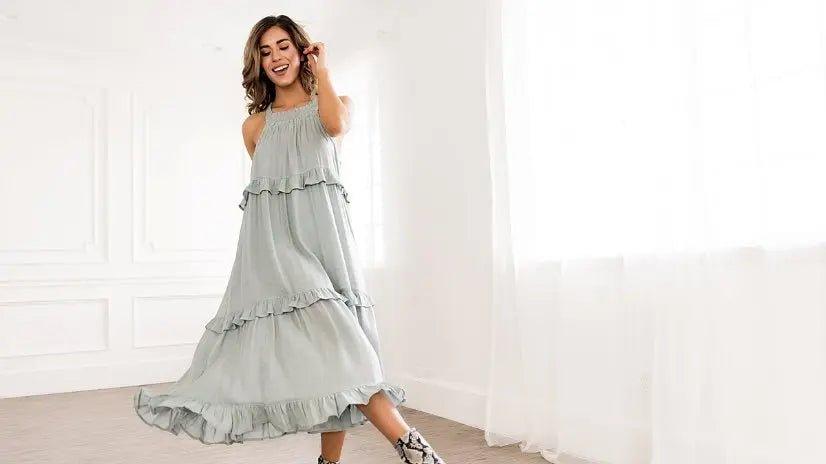 Bringing in the fresh, new + bright colors have us so giddy for the spring season! With a new season comes new styles - dresses, tanks, blouses + so much more! Personally, I feel like spring is suc...
Read more We've decided to do something new around here! It's time to introduce you all to our very own #JOCObabes! On our other social media platforms will be featuring one of our babes each week. They wil...
Read more