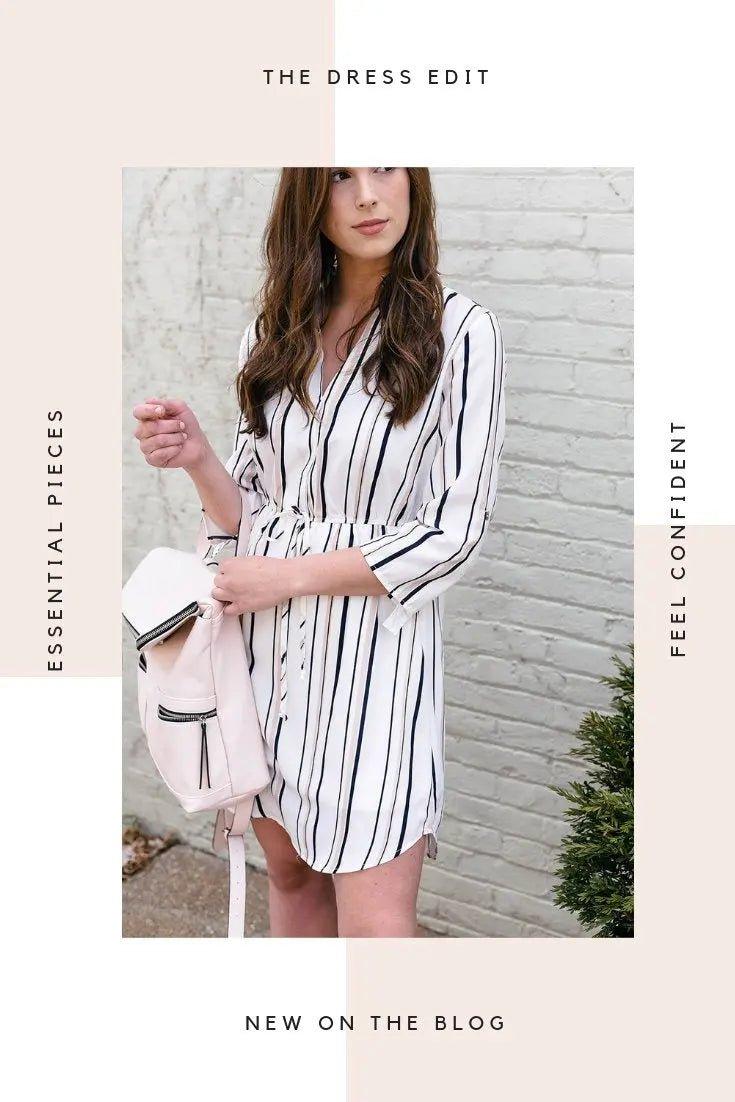 A good dress to wear over and over again is always a great essential to have in your closet. With these Joelle + Co dress picks, we wanted to flaunt styles you can wear for different reasons that are somewhat versatile. If you want to find a piece that you'll feel confident in, you have some shopping to do after reading, The Dress Edit.
Business Casual Stripes
https://joelleandco.com/collections/dresses/products/white-striped-roll-up-sleeve-shirt-dress?variant=7290788610071
The White Striped Roll Up Sleeve Shirt Dress gives off a business casual style. It's light and airy with can't miss stripes. A cute outfit if you're at work or just on the go. You can dress it up by simply pairing it with heels or go casual with your favorite white sneakers! This is also a great dress to transition into fall.
Little Black Dress Essential
https://joelleandco.com/collections/dresses/products/black-sleeveless-knit-bodycon-midi-dress?variant=12374939762711
What's a dress collection without a little black dress? The Black Sleeveless Knit Bodycon Midi Dress is a key essential for your wardrobe. Not only will it show off your beautiful curves, but it was made to style with so many options. You could be feeling sandals with a long kimono, or a duster sweater and booties, you'll notice this dress as a weekly wear.
Favored Off Shoulder Dress
https://joelleandco.com/collections/dresses/products/blue-stripe-off-the-shoulder-pocket-dress?variant=7554476376087
Talking about dresses we had to add the Blue Stripe Off the Shoulder Pocket Dress. It's the best combination of cute and cozy, plus who doesn't love baring shoulders? Change up your style by what type of shoe you'll pair it with. Wedges for a lunch date to an espadrille sneaker for a BBQ, this dress always wins!
Neutrals in Crochet Dress
https://joelleandco.com/collections/dresses/products/taupe-polka-dot-crochet-detail-sleeveless-dress?variant=7101447766039
The right amount of boho with the right amount of flirty, the Taupe Polka Dot Crochet Detail Sleeveless Dress is another must have. Neutral tones are great for your wardrobe to mix and match with other pieces. You can style with colorful shoes to printed outerwear. It's a great dress you can also pair with tights when the fall weather rolls around.
The Shirt Dress
https://joelleandco.com/collections/dresses/products/grey-ribbed-button-up-shirt-dress?variant=7453441392663
The Grey Ribbed Button Up Shirt Dress is another style staple you'll love. Rock it with your favorite loafers when heading out for errands or wear with skinny jeans to transform your shirt dress into a shirt. Another design with infinite options to keep your closet fresh and in a great outfit rotation. We always love a good button up!
Every woman should feel confident in the skin they're in and when wearing dresses, it gives you the feminine feel you always look for in fashion. The Dress Edit has all the essentials you need to be universal with your style!
0 comments